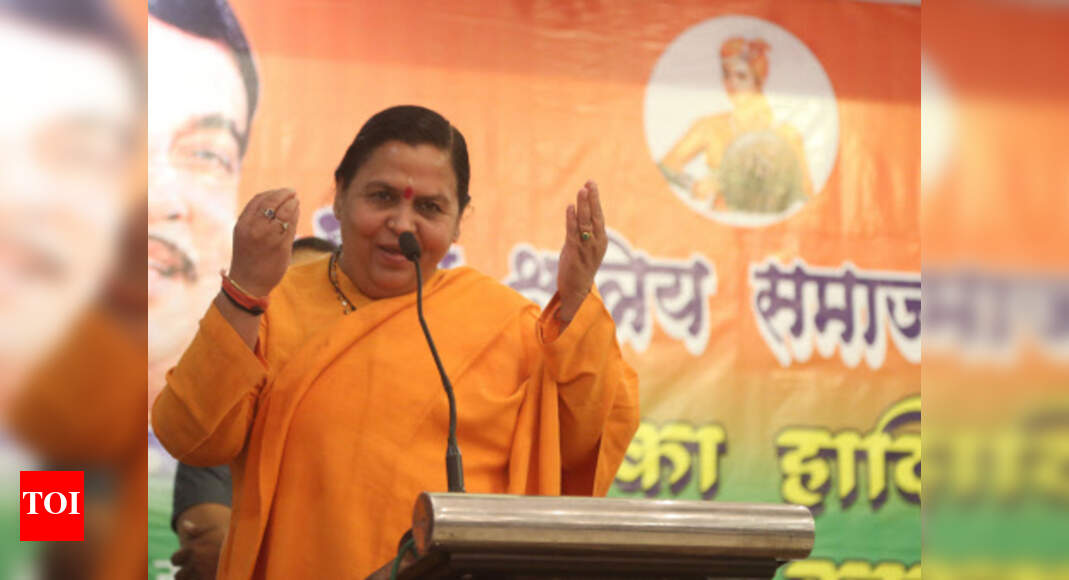 BHOPAL: Even as Congress and the ruling BJP have crossed swords over liquor policy in Madhya Pradesh, former chief minister Uma Bharti has vehemently opposed the opening of new liquor shops in the state. The BJP leader appealed to national president JP Nadda to prepare for a total prohibition on liquor sale in all BJP ruled states. Bharti said the life of people is more precious than generating revenue.
"I want to publicly appeal to BJP president JP Nadda through this tweet to prepare for total prohibition in all BJP ruled states. Political parties are under pressure to win elections but, BJP's victory in Bihar has proved it was due to prohibition that women voted one-sided for Nitish Kumar," said Bharti.
In a series of tweets, the BJP leader said that she welcomed the MP chief minister's statement that the government has not taken any decision on increasing the number of liquor shops in the state.
"During Covid-19 lockdown, there was almost total ban on liquor sales. People died due to other causes and corona but not because of alcohol consumption," she tweeted. Recently, several people died in UP and MP due to liquor consumption. Most of the road accidents are caused by drunken drivers. It is surprising that liquor is the messenger of death, still an urge for revenue and pressure of the liquor mafia does not allow prohibition, she added.
Uma Bharti also blamed the state governments for promoting liquor sale. "It is the government system which manages liquor consumption among the public. It is like a mother whose responsibility is to protect her child by nourishing. What happens if the mother gives poison to the child. Opening liquor shops by the government machinery is similar," she said.
Bharti further said, "Prohibition is not a deficit deal. The loss of revenue from prohibition could be recovered from anywhere but, incidents under the influence of alcohol like rape, murders, accidents, rape of young girls are frightening and a stigma for the country and the society."
The BJP leader said that crores of rupees were spent to maintain law and order. Prohibition is an important step and a debate can be started on this, she tweeted.