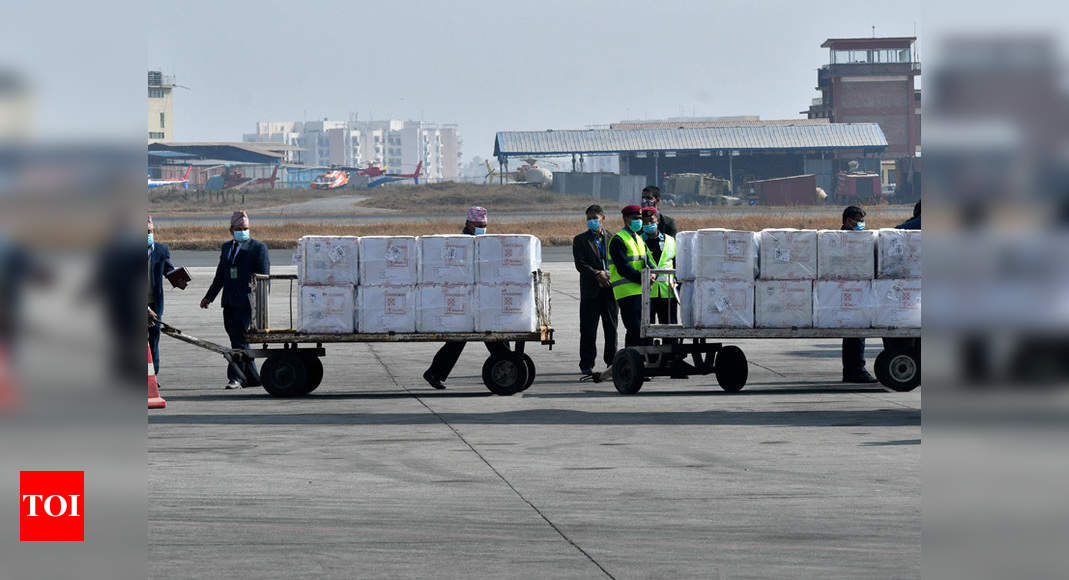 NEW DELHI: As the battle against coronavirus reaches a turning point, India is sharpening its vaccine diplomacy to reach out to its South Asian neighbours and boost its presence in a region dominated by China.
Over the next few weeks, India will be sending shipments containing millions of doses of India-made Covid-19 vaccines to several South Asian countries such as Nepal and Maldives.
Free shipments containing the first batch of Covishield, the Covid vaccine manufactured by Pune-based Serum Institute of India, have already reached several nations.
On Thursday, India supplied 2 million doses to Bangladesh and a million doses to Nepal as a "gift" under its "Neighbourhood First" policy.
Similar supplies will be sent to Myanmar and Seychelles in the coming few days.
On Wednesday, India had sent 150,000 doses of Covishield vaccines to Bhutan and 100,000 doses to the Maldives.
Beyond its immediate neighbourhood, India is also planning to supply vaccines to other nations like Brazil, Morocco, Saudi Arabia and South Africa.
'India has shown goodwill'
India's helping hand in the midst of a raging pandemic has drawn generous praise from the neighbouring countries.
"India had stood by Bangladesh during the (1971) Liberation War, and today, when the pandemic is rattling the world, India again came with gifts of vaccines," Bangladesh foreign minister Dr AK Abdul Momen said after receiving the consignment.
Nepal's minister for health and population Hridayesh Tripathi said that India has shown goodwill by providing the vaccine in grant.
Mohamed Nasheed, Maldives' Speaker of People's Majlis (parliament), thanked India for its "gift", saying that New Delhi has always been Male's first responder and dependable friend.
Meanwhile, external affairs minister S Jaishankar today tweeted images as Air India planes landed in Male and Thimphu with doses of Covishield.
Nepal receives Indian vaccines. Putting neighbours first, putting people first! #VaccineMaitri https://t.co/mcfcMtGrTo

— Dr. S. Jaishankar (@DrSJaishankar) 1611212285000
Touchdown in Dhaka.#VaccineMaitri reaffirms the highest priority accorded by India to relations with Bangladesh. https://t.co/QschnQRGL2

— Dr. S. Jaishankar (@DrSJaishankar) 1611207597000
"Nepal receives Indian vaccines. Putting neighbours first, putting people first!"
"Touchdown in Dhaka. #VaccineMaitri reaffirms the highest priority accorded by India to relations with Bangladesh," Jaishankar said on Twitter.
Countering China
China, which had promised Nepal help to deal with the pandemic, is awaiting Nepali clearance for its Sinopharm shots.
Bangladesh was supposed to get 110,000 doses of vaccine free from Chinese firm Sinovac Biotech, but refused to contribute towards the development cost of the vaccine leading to deadlock.
Instead, it turned to India for urgent supplies.
India for years has struggled to match the pace of Chinese investment in countries such as Sri Lanka, Nepal and the Maldives, where China is building ports, roads and power stations as part of its Belt and Road Initiative.
But the demand for vaccines in these countries desperate to revive their tourism-dependent economies has offered Prime Minister Narendra Modi's government a way to claw back ground, diplomats say.
A government source told Reuters that India is considering giving away anywhere between 12 million to 20 million shots to its neighbours in the first wave of assistance over the next three to four weeks.
Moreover, India is also helping with the training of health workers in some of these countries and the setting up of the infrastructure to administer the shots, the source said.
"It's a well-crafted, calibrated series of actions you are seeing, they confirm the validity of our 'neighbourhood first' policy," former Indian ambassador Rajiv Bhatia told Reuters.
"It plays to our strengths in science and pharma, and this is our moment to shine."
(With inputs from agencies)